Have you completed rule number one of the 10 essential rules for reducing wireless expenses?
Then it's time to address rule number two.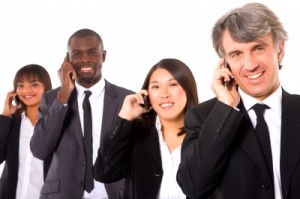 Rule #2 – Move to Corporate-Liable Devices
To centralize the wireless spend, all wireless devices used in the business should be company-owned. This step not only enables the cost benefits of pooled plans, but improves oversight and control in several areas:
Corporate-owned devices can be standardized and electronically monitored. This gives managers the ability to enforce user policies, and as well, implement appropriate security. An unmonitored device is equivalent to a stray key to the corporate network, and could be carrying sensitive information as well.
Employees feel that when they own the device, it is their right to use it as they please. It is hard to govern the use of something that your company does not own.
Centralizing the purchase of devices allows companies to gather data on costs and features, and determine what best serves the business.
From a commercial standpoint, it's important for the company to own all phone numbers that are being used to contact the company. Otherwise, when an employee leaves the company, so might the phone number that was a customer's only point of contact.
If you would like help reducing your wireless costs, or would like advice on how to better negotiate your wireless contracts, please contact Avema for a free consultation.